Recent Ivy Graduates
Virtual

Happy Hour
Friday, September 11, 2020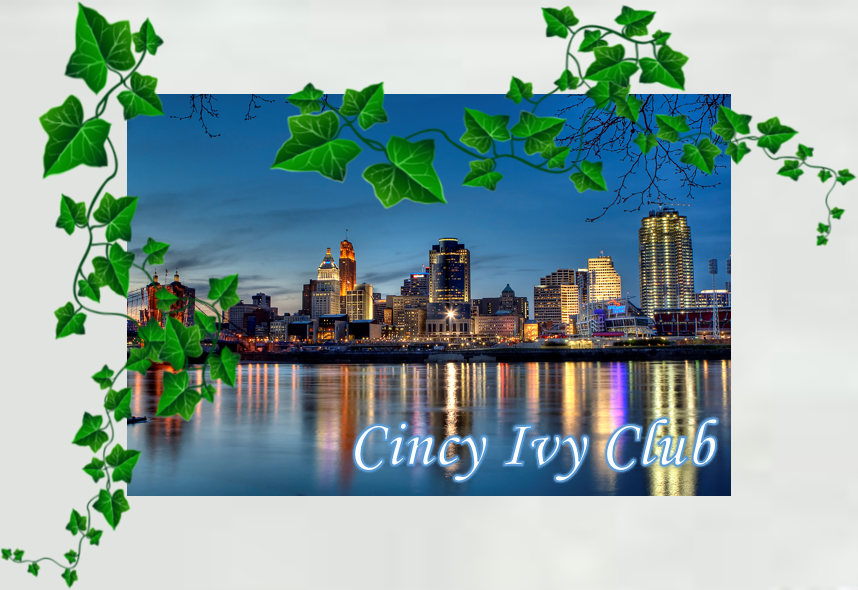 What is the Cincy Ivy Club?
Are you looking to meet fellow recent graduates in the Cincinnati area? Are you new to Cincinnati and would like to get out and explore? Recent graduates of all Ivy schools are cordially invited to join the Cincy Ivy Club for its Ivy Recent Graduates Happy Hour on the second Friday of each month in Downtown Cincinnati. These casual meetings are underwritten by your local Ivy alumni clubs and are in addition to their programming. There is no cost to subscribe.
The location of each Happy Hour is emailed to Cincy Ivy Club list subscribers about two weeks before each event. There is no cover charge and appetizers are provided with a cash bar. To sign up to receive monthly event details please visit <http://www.cincyivy.org/join-our-list> and subscribe.
_____________________________________________________________________________________

Dear Harvard Recent Graduates,

Please save the date for the next Ivy Recent Graduates Happy Hour, which will be held on Friday, September 11, 2020. The Ivy Recent Graduates Happy Hour is an excellent way to meet other Ivy recent graduates from a variety of schools, companies, neighborhoods, etc. in a fun and relaxing setting. Please contact our Social Committee at <social@cincyivy.org> with questions. Our next gathering promises to be another fantastic event for recent graduates, so we hope to see you there.
>See the Evite for details--the Evite goes out the week before the event to active members who have attended one of our events in the last six months and to new members who have joined our list in the last six months. If you are an inactive member who is on this email list but has not received the Evite, or if you subscribed online to our list after the Evite went out and you would like to attend, please e-mail social@cincyivy.org to be added to the Evite invitation.

If you have any Ivy-related events in the area to include on our calendar, please forward a summary in the "Ivy Update format" (like the entries below) to <update@cincyivy.org>. If you have any questions about the Cincy Ivy Club, please contact Sid D'Souza, Club Coordinator at <sid@cincyivy.org>, or visit our website. Remember, if you know new Ivy arrivals to the area, please forward this message and encourage them to join the list by visiting our site <http://www.cincyivy.org>.
Best regards,
Sid D'Souza
Cincy Ivy Club
http://www.cincyivy.org
Events
o o o o o o o o o o o o o
September 30 2020
Time: 6:30 pm -8:00 pm
Harvard Club of Cincinnati President's Reception
Building Community One Tapas at a Time
Location: Zoom
RSVP HERE
Pandemic-induced cabin fever got you feeling blue and isolated? Feel like taking family to some exotic place, seeing old friends, and meeting new ones? For the first time in its long and distinguished history, the Harvard Club of Cincinnati is holding its annual President's Reception not in Cincinnati, but in the Basque Country!
Please join us as we travel, virtually, to San Sebastián to experience its world-famous cuisine and build community by making what the Spanish call tapas and the Basques call pintxos (pronounced PEEN-chos). No foreign language or special chef skills are necessary to enjoy the joyous tradition of going from one tapas bar to the next. Let Zoom transport you to HCC President Pollock's tasca (tavern) where Club members and friends will learn about Basque cuisine and prepare two classic Basques pintxos: Tuna Belly with Preserved Lemon and Potato and Chorizo Brandade. Sound complicated? It's not, and these tasty bites are sure to impress family and friends. As a bonus, we will also create the simplest of vegetarian tapas: Green Olive and Manchego Cheese Skewers.
Not a cook? Grab your favorite beverage and Zoom in to hang out with us at the tasca!
o o o o o o o o o o o o o
Wanted for Harvard Book Club--Zoom coordinator.
Contact Marcy.