2020 President's Reception
Building Community One Tapas at a Time
September 30, 6:30 pm on Zoom
RSVP below to get the link and printable recipes and shopping list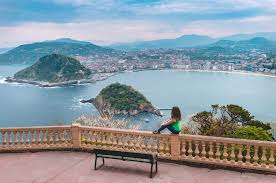 Pandemic-induced cabin fever got you feeling blue and isolated? Feel like taking family to some exotic place, seeing old friends, and meeting new ones? For the first time in its long and distinguished history, the Harvard Club of Cincinnati is holding its annual President's Reception not in Cincinnati, but in the Basque Country!
Please join us as we travel, virtually, to San Sebastián to experience its world-famous cuisine and build community by making what the Spanish call tapas and the Basques call pintxos (pronounced PEEN-chos). No foreign language or special chef skills are necessary to enjoy the joyous tradition of going from one tapas bar to the next. Let Zoom transport you to HCC President Pollock's tasca (tavern) where Club members and friends will learn about Basque cuisine and prepare two classic Basques pintxos: Tuna Belly with Preserved Lemon and Potato and Chorizo Brandade. Sound complicated? It's not, and these tasty bites are sure to impress family and friends. As a bonus, we will also create the simplest of vegetarian tapas: Green Olive and Manchego Cheese Skewers.


Please join us for this fun, family-friendly event that aims to satisfy our need for human connection, curiosity about foreign cultures, and other appetites. I have tried to keep the ingredient list accessible and the instructions simple, involving more assembling than cooking. All the basic ingredients can usually be found at Kroger. Only one step must be prepared in advance of the meeting: For the Potato and Chorizo Brandade, bake the potatoes prior to the meeting.
Non-cooks can grab a beverage of your choice and tune in to socialize! A cava, Spanish sparkling wine, is always lovely with tapas, or a Welch's sparkling white grape juice with a little extra seltzer and citrus slice. For beer fans, Txorierri Beers (Txorierri Garagardoak in Basque language) is a brand produced in Basque Country since 2016.
Fun fact: The largest cluster of Basques in the U.S. is in Boise, Idaho, where the Basque Museum and Cultural Center is located.
Tapas Ingredients
Tuna Belly and Preserved Lemons
1 pequillo (or roasted red pepper)
1 Tablespoon capers, rinsed and drained
¼ cup pitted brine-cured olives, such as Kalamata or Niçoise
¼ cup Aioli or garlic mayonnaise
8 diagonally cut baguette slices, ½ inch thick
1 4.5 ounce can tuna belly (ventresca) packed in olive oil, (or any tuna packed in oil) drained and broken into 8 equal pieces
3 Tablespoons rind from preserved lemons (or lemon zest)
Potato and Chorizo Brandade
½ pound dry-cured Spanish chorizo
1 pound Yukon gold potatoes, baked and cooled
2 Tablespoons chopped fresh flat-leaf parsley
Kosher salt and freshly ground black pepper
8 diagonally cut baguette slices, ½ inch think
Green Olive and Manchego Cheese Skewers
Pitted green olives, such as Castelvetrano or Manzanilla stuffed with pimento
Manchego cheese
Skewers or toothpicks
When:
6:30PM - 8:30PM Wed 30 Sep 2020, Eastern timezone

RSVP Here...