The Harvard-Yale Game
November 18 2017
Lachey's ("The Garage") in OTR. Drew Lachey will be there to welcome us!
56 E. 12th St. on the corner of 12th and Walnut
Kick-off at 12:30 pm. Doors open at noon.
SILENT AUCTION TO BENEFIT Ben Abercrombie '21 Fund for injured athletes.
--If you can't attend but would like to contribute to the Fund, please CLICK HERE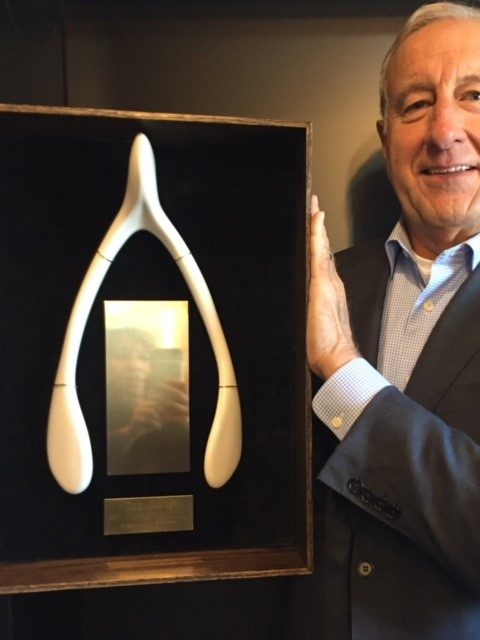 Be there for the unveiling of a new tradition, the Wishbone Traveling Trophy!
The wishbone theme was inspired by the cover of the Official Program for the 1947 edition of The Game (above).
The Wishbone Trophy will serve as a tangible, durable reminder of each year's results, with the admonition,
"Sic transit gloria mundi" or "worldly things are fleeting".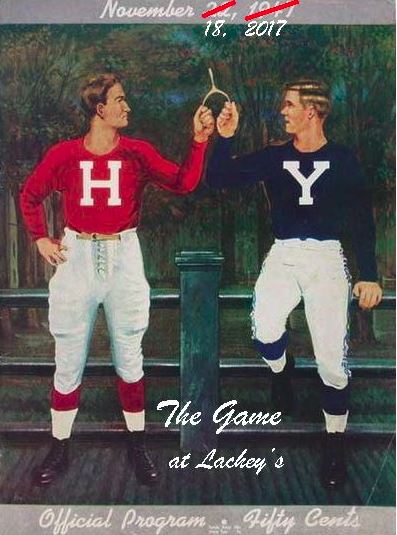 Benefit Auction of Harvard Football Swag.
Harvard freshman Ben Abercrombie suffered a serious cervical injury while making his Harvard football debut at the University of Rhode Island on September 16. The Benson M. Abercrombie '21 Fund has been started to help Ben with the many challenges ahead. Dave Rogers, HCC member and former football player for the Crimson, arranged for a number of Harvard football items to be donated for our Benefit Auction. HCC Director Nelson Lees met with Harvard football operations ahead of the Princeton game to pick up those items, including an autographed football from Coach Tim Murphy, sure to be a treasured Harvard memento! In support of this great cause, Yale is contributing auction items, too. Come support the team and Ben!
To be auctioned at the Watch Party for the Benson M. Abercrombie '21 Fund






Please contact Nelson Lees, nlees1771@gmail.com, with any questions.
When:
12:00PM - 4:00PM Sat 18 Nov 2017, Eastern timezone

Where:
Lachey's
56 E, 12th St.
Cincinnati, OH 45202
[ Get Directions ]
RSVP Here...
Look Who's Coming:
Marcy Taylor
Harvard Club
Gray Heaton
HCC
Nelson Lees
M. B. Taylor
HCC
Annie Dell'Aria
Miami University
Kate Molinsky
Harvard Club
Bennett Kowalk
Harvard club
Lori Nuckolls
Harvard Law School Association of Cincinnati
Mary Helen Weber
Katie Nappi
n/a
Kayla Springer
Valerie Bogdan-Powers
Harvard Club
christopher cirulli
Tom and Joyce Choquette
Hans Schwarz
Baxter
Eunice and Bobby Das
Harvard
Sophia Chiu
Couper Gardiner
Gillian Sella
Cincinnati Symphony Orchestra
Brian Ramer
Harvard Club
Tom Broge
Harvard
Jay Chatterjee
UC
Jay Chatterjee
UC
Cynthia Williams
Harvard Club
Neal Tew
US Bank
Elise Foster
Leadership Potential Consulting
Dan Kiley
Nathan Huey
Harvard
... a total of 28 guests.
Note: to opt out from this list please sign in, go to My Account and change your preferences under My RSVPs.