Ivy Recent Graduates Happy Hour
Ivy Happy Hour Friday, February 14, 2020 Downtown, TBA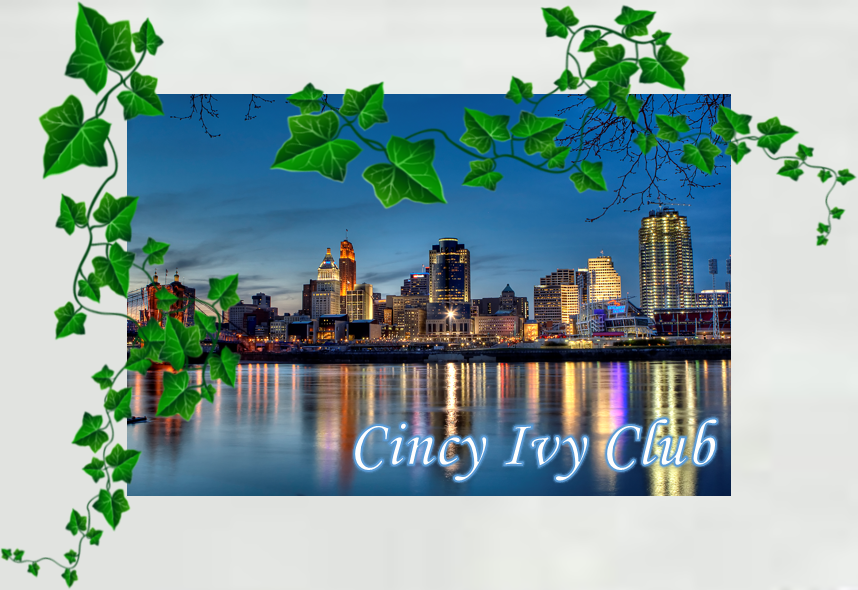 What is the Cincy Ivy Club?
Are you looking to meet fellow recent graduates in the Cincinnati area? Are you new to Cincinnati and would like to get out and explore? Recent graduates of all Ivy schools are cordially invited to join the Cincy Ivy Club for its Ivy Recent Graduates Happy Hour on the second Friday of each month in Downtown Cincinnati. These casual meetings are underwritten by your local Ivy alumni clubs and are in addition to their programming. There is no cost to subscribe.
The location of each Happy Hour is emailed to Cincy Ivy Club list subscribers about two weeks before each event. There is no cover charge and appetizers are provided with a cash bar. To sign up to receive monthly event details please visit <http://www.cincyivy.org/join-our-list> and subscribe.
_____________________________________________________________________________________

Dear Harvard Recent Graduates,
Please save the date for the next Ivy Recent Graduates Happy Hour, which will be held on Friday, February 14, 2020 in Downtown Cincinnati (see the Evite that will go out the week before the event for details). The Ivy Recent Graduates Happy Hour is an excellent way to meet other Ivy recent graduates from a variety of schools, companies, neighborhoods, etc. in a fun and relaxing setting. Please contact our Social Committee at <social@cincyivy.org> with questions. Our next gathering promises to be another fantastic event for recent graduates, so we hope to see you there.

Harvard alumni, RSVP ASAP for the complimentary Harvard Global Networking Night on Wednesday, January 15, 2020. See details below!

All Ivy alumni should note upcoming events and "save the date" notices. Details below.

If you have any Ivy-related events in the area to include on our calendar, please forward a summary in the "Ivy Update format" (like the entries below) to <update@cincyivy.org>. If you have any questions about the Cincy Ivy Club, please contact Sid D'Souza, Club Coordinator at <sid@cincyivy.org>, or visit our website. Remember, if you know new Ivy arrivals to the area, please forward this message and encourage them to join the list by visiting our site <http://www.cincyivy.org>.

Best regards,
Sid D'Souza
Cincy Ivy Club
http://www.cincyivy.org
Local club events to which all Ivy alumni are invited.

1/17/20 - Harvard - Leadership Luncheon @ Taft Center
1/22/20 - Yale - Quarterly Women's Event @ Bay Horse Cafe
1/26/20 - Harvard - Family Winter Frolic @ Indian Hill Winter Club
2/14/20 - Harvard - Leadership Lunch @Taft Center
2/14/20 - Happy Hour, recent Ivy grads @ downtown TBA

IVY Events at a Glance
1/15/20 - Harvard - Global Networking Night @ Palm Court
1/17/20- Harvard/All Ivy- Leadership Luncheon @Taft
1/26/20-Harvard/All Ivy--Winter Frolic@Indian Hill Winter Club
1/29/20-Harvard Book Club@ Bronte
Events
o o o o o o o o o o o o o

o o o o o o o o o o o o o
Wednesday, January 15, 2020
Time: 5:30 pm - 7:30 pm
Harvard Club of Cincinnati Global Networking Night
http://harvard.cincyivy.org
Location: The Grille at Palm Court (35 West 5th St, Downtown)

Harvard alumni, please join fellow local alumni for Global Networking Night as alumni come together in cities around the world to explore and to expand our Harvard networks. These free events are designed to promote interesting conversations and professional network-building. We are planning for a diverse crowd by age and profession. The past few Cincinnati-based GNN events have been big hits and this will be the first Harvard Club of Cincinnati event of 2020, so make a New Year's resolution to join, to make some connections and to have a good time! The venue is located across from hotel registration on the second floor of the Hilton Cincinnati Netherland Plaza (the lobby level). Upon entering the restaurant, simply look for our Harvard banner on the upper tier (up the ramp) or ask any of the staff and you will be directed to our event. Complimentary valet parking is available at the Hilton (accessible by Race Street) to those who register on the event website -- just remember to bring your valet ticket with you for validation by the staff at our event. Alternative garage parking is available in Fountain Square Garage. Please be aware that street meters are enforced through 9 p.m. Complimentary hors d'oeuvres will be provided by the Harvard Club of Cincinnati. Happy hour drink specials will be available to our guests until 7:00 p.m. Contact Sid D'Souza <haa_alumnihelp@harvard.edu> with questions.
o o o o o o o o o o o o o
Friday, January 17, 2020
Time: 11:30 am- 1 pm
The Taft Center at Fountain Square, 425 Walnut Street, 2nd Floor
Harvard Club Leadership Luncheon
Cost: $12 members, $17 non-members & guests. Open to All-Ivy.
Lunch order deadline: January 14. Link opening soon.
Walk-ins welcomed--must BYO lunch; no charge.
January 17 is the next in our HCC Leadership Speaker Series. The series features local alumni who have held leadership roles across a variety of industries and aims to highlight some of the key takeaway lessons they've learned in their careers.
We are excited to welcome Elise Foster, Harvard Graduate School of Education EDM 2006, President and Executive Coach of Leadership Potential Consulting.
o o o o o o o o o o o o o
Sunday, January 26, 2020
Time: 3:00-5:00 pm
Indian Hill Winter Club, Fletcher Road
All-Ivy event. RSVP requested, then pay at the door.
The Harvard Club invites all ages to celebrate winter with an afternoon at the stunning Indian Hill Winter Club, built with the ambiance of a Colorado ski lodge. For the energetic, there is an indoor ice rink, basketball court and outdoor paddle tennis. HCC Director Robert Sorscher will be leading various activities in the gym. Please bring tennis shoes for floor hockey, platform tennis, etc. Free skate starts at 3 pm.

If you prefer, you can lounge in front of a roaring fireplace while enjoying pizza, drinks and good company.

All alumni, your families and guests, current students and Early Admits are encouraged to come out! This year we have invited the Yale Club and our other Ivy friends to romp with us.

Activity Waiver Required--Fill out at door or form available for download.
*Helmets are required for everyone under 10 while on the ice. Please bring one if you have it!

RSVP then PAY AT THE DOOR
Admission includes skate rental, pizza and non-alcoholic drinks, and all activities. Cash bar available in the Senior Common Room, aka upstairs lounge.
Member: $15
Member couples: $30
Member families: $60
Non-member alumnus: $20
Non-member alum couple: $35
Non-member alum family: $75

For more information, contact Robert Sorscher, sorschers@gmail.com, 513-535-1526.
o o o o o o o o o o o o o
Wednesday, January 29, 2020
Time: 7:30-9 pm
Harvard Book Club
Bronte Cafe, Joseph Beth Booksellers, Rookwood
The next Harvard Club of Cincinnati Book Club meeting is set for Wednesday, January 29 at 7:30 p.m. at the Bronte Cafe in the Joseph Beth Bookstore.
We will be reading "On Tyranny, Twenty Lessons from the Twentieth Century" by Timothy Snyder.
Timothy Snyder is the Levin Professor of History at Yale University. He is the author of Bloodlands: Europe Between Hitler and Stalin and Black Earth: The Holocaust as History and Warning. Snyder is a member of the Committee on Conscience of the United States Holocaust Memorial Museum and a permanent fellow of the Institute for Human Sciences in Vienna.