Ivy Recent Graduates Happy Hour
Ivy Happy Hour Friday, July 12, 2019 Downtown, TBA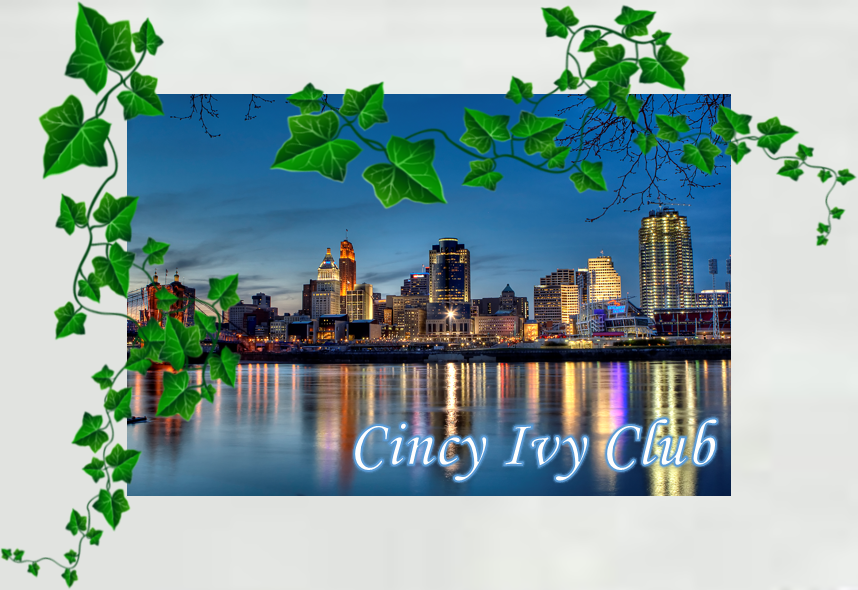 Dear Ivy League Recent Graduates,
Are you looking to meet fellow recent graduates in the Cincinnati area? Are you new to Cincinnati and would like to get out and explore? Recent graduates of all Ivy schools are cordially invited to join the Cincy Ivy Club for its Ivy Recent Graduates Happy Hour on the second Friday of each month in Downtown Cincinnati. The location will be emailed to Cincy Ivy Club list subscribers about two weeks before each event. There is no cover charge and appetizers are provided with a cash bar. To sign up to receive monthly event details please visit <http://www.cincyivy.org/join-our-list> and subscribe.
RSVP ASAP for the next Ivy Recent Graduates Happy Hour, which will be held on Friday, July 12, 2019 in Downtown Cincinnati (see the Evite that you received for details). The Ivy Recent Graduates Happy Hour is an excellent way to meet other Ivy recent graduates from a variety of schools, companies, neighborhoods, etc. in a fun and relaxing setting. Please contact our Social Committee at with questions. Our next gathering promises to be another fantastic event for recent graduates, so we hope to see you there.
If you have any Ivy-related events in the area to include on our calendar, please forward a summary in the "Ivy Update format" (like the entries below) to <update@cincyivy.org>. If you have any questions about the Cincy Ivy Club, please contact Sid D'Souza, Club Coordinator at <sid@cincyivy.org>, or visit our website. Remember, if you know new Ivy arrivals to the area, please forward this message and encourage them to join the list by visiting our site <http://www.cincyivy.org>.

Best regards,
Sid D'Souza
Cincy Ivy Club
http://www.cincyivy.org
IVY EVENTS - DETAILS BELOW

* 7/12/19 - Ivy - Ivy Happy Hour - SEE EVITE *
7/14/19 - Harvard - Riverside Stroll @ Roebling Bridge
7/30/19 - Harvard - Book Club @ Bronte Bistro
* 8/9/19 - Ivy - Ivy Happy Hour - SAVE THE DATE *
HARVARD CLUB EVENTS in sidebar
Events
o o o o o o o o o o o o o
Sunday, July 14, 2019
Time: 4:00 pm - 6:00 pm
Harvard Riverside Stroll
http://harvard.cincyivy.org
Location: Roebling Murals on the Covington Riverfront (Riverside Drive 41011)

Marcy Taylor and Gary Heaton (both Harvard 1984) will lead a loop walk from the Covington flood wall murals past the Aquarium, over the Purple People Bridge, across the Serpentine Wall and Smale riverfront park and back over the Roebling Suspension Bridge. The walk is less than three miles, mostly flat. The goal is to enjoy the sites and company while getting a little exercise. We can stop in along the way for ice cream or adult beverages. The event is open to anyone who wants to join us. Families welcome. Be sure to RSVP online so that we can establish a headcount and send out updates in case of weather or otherwise (thunderstorms or bridge repairs will cancel the walk). There is free parking available at the Covington Landing lot "underneath" the Roebling Bridge. Questions, contact Marcy Taylor <mbtaylor5@outlook.com>.

o o o o o o o o o o o o o

Tuesday, July 30, 2019
Time: 7:30 pm - 9:00 pm
Harvard Club of Cincinnati Book Club
http://harvard.cincyivy.org
Location: Bronte Bistro in Joseph Beth Bookstore (2692 Madison Road 45208)

Harvard alumni are invited to join the Harvard Club of Cincinnati Book Club for a discussion of "Appalachian Reckoning: A Region Responds to Hillbilly Elegy" by Anthony Harkins (Editor) and Meredith McCarroll (Editor). With hundreds of thousands of copies sold, a Ron Howard movie in the works, and the rise of its author as a media personality, J. D. Vance's Hillbilly Elegy: A Memoir of a Family and Culture in Crisis has defined Appalachia for much of the nation. What about Hillbilly Elegy accounts for this explosion of interest during this period of political turmoil? Why have its ideas raised so much controversy? And how can debates about the book catalyze new, more inclusive political agendas for the region's future? Appalachian Reckoning is a retort, at turns rigorous, critical, angry, and hopeful, to the long shadow Hillbilly Elegy has cast over the region and its imagining. But it also moves beyond Hillbilly Elegy to allow Appalachians from varied backgrounds to tell their own diverse and complex stories through an imaginative blend of scholarship, prose, poetry, and photography. For information about the Book Club, contact Steve Strauss at 513-321-0967 or <sdstrauss@earthlink.net>.
o o o o o o o o o o o o o

o o o o o o o o o o o o o