Both Parties Bidding: Ohio's 1884 Civil Rights Act and the Evolving Concept of Equal Citizenship
With Professor Matthew Norman and Professor Christopher Bryant, University of Cincinnati
Friday, April 30, 2021
Link to view the recording:
https://us06web.zoom.us/rec/share/IuMesqVZ5Y7PyxzA19Tu5k3nsMFPXacMBBER1cPptypAX69f-cDWh9kMxCOYJ_aN.KqJgRNvW47pPTjzH Passcode: S3h%Ev?U


When the U.S. Supreme Court struck down the federal Civil Rights Act of 1875, numerous states enacted civil rights statutes prohibiting racial discrimination in access to "public accommodations" variously defined. Ohio was the first state to enact such a law. Professors Norman and Bryant will explore both the legislative adoption (and amendment) and judicial implementation of Ohio's 1884 statute. The story of the adoption of this statute, which has received scant attention in either the historical or legal literature, provides a window
into the fluid politics of race in Ohio in the years after the collapse of Reconstruction efforts at the federal level. It also shines light on contending contemporary understandings of the ultimate objectives of those efforts.
The statute's subsequent judicial interpretation, which unfolded in dozens of cases stretching over nearly seven decades, in turn reflects evolving attitudes and practices in the state concerning civil rights prior to the Supreme Court's decision in Brown v. Board of Education. These cases reflect both judicial hostility to and endorsement of the statute's objectives. More specifically, the rulings reflect conflicting and changing attitudes about both the line separating the public domain from the purely private sphere and the meaning of the full and equal citizenship promised to African Americans as a consequence of Union victory in the Civil War.

We are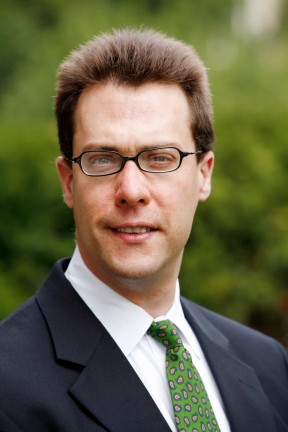 pleased to bring you two esteemed scholars from our own backyard, Matthew Norman, Associate Professor of History at the University of Cincinnati-Blue Ash and Chris Bryant, Rufus King Professor of Constitutional Law at the University of Cincinnati College of Law.
Professor Bryant's numerous published articles and essays reach a wide range of issues of contemporary constitutional importance, including the separation of powers, judicial review, and the roles of the various branches of the national government in constitutional interpretation. He is a recognized expert on the scope and exercise of national legislative power and the respect that Congressional action is owed from the federal judiciary. Professor Bryant is co-author of Powers Reserved for the People and the States: A History of the Ninth and Tenth Amendments (Greenwood Press 2006). He authored thirteen essays on landmark constitutional cases for the Encyclopedia of the Supreme Court of the United States (Macmillan 2008), and is a frequent speaker on the Constitution, the Congress, and the federal courts. Professor Bryant is a member of the America Society for Legal History and the Federalist Society and also serves as faculty advisor to the College's Federalist Society chapter.
Dr. Matthew Norman is an associate professor of history at the University of Cincinnati Blue Ash College. His research focuses on the American Civil War-Reconstruction Era, and Abraham Lincoln. He is co-author of a forthcoming book, Knowing Him by Heart: African Americans on Abraham Lincoln (University of Illinois Press). The paper that he and Professor Bryant are presenting is part of a larger project on the history and legacy of the 1883 US Supreme Court ruling in the Civil Rights Cases. They are also currently team-teaching a course in the UC Honors Program on citizenship and the long Civil Rights Movement.