Holiday Cook-Together with Chef Sam Kang
Learn to make Asian dumplings!
December 6, 2020, Zoom 4 pm EST


$5 for paid HCC members




$20 for all others


30 tickets maximum. Price is per zoom log-in; multiple people can watch from one screen.
Scroll down for the blue buy button!
Sampling of homemade dumplings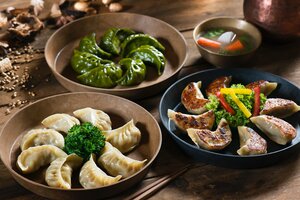 Gather your ingredients and join Chef Sam Kang for a lesson in making scrumptious Asian dumplings! Learn a new dish for the holidays. Chef Sam sets you up for success!
Choose among pork, shrimp, or vegetarian versions for your dumplings. The ingredients needed can be found here https://www.chefsamkang.com/harvard-club-of-cincinnati
Total time - The class is scheduled for 90 minutes.
A Southern California native, Sam Kang started his journey in New York in 2010 with just $700 in his pocket and the goal of becoming a head chef. His first job was at Momofuku Ko, a two Michelin-starred restaurant where he developed his foundation for cooking. He went on to work with Chef Daniel Humm at the three Michelin-starred Eleven Madison Park, which laid a foundation of teamwork, organization, and finesse.
In 2016, Chef Sam returned to Momofuku Ko as a sous chef and helped open Wayo, Momofuku's latest restaurant, where he was the chef.
Over the course of his journey, Chef Sam has visited countries across the globe, gaining and testing his knowledge in Thailand, Cambodia, Vietnam, Laos, Japan, South Korea, France, Spain, Turkey, and the UK. His cuisine style has been characterized as "the Art of Cooking without Cooking" in which he focuses on simplicity and purity while blending together culture and history.
For more information about Chef Sam Kang, please visit chefsamkang.com
Price is per zoom login, and an unlimited number of people can watch from one screen.
People can ask questions in chat and if careful about chopping sounds, they can also ask questions verbally.
Thanks to Charlotte Chiu who joined us for the President's Reception and graciously hooked us up with Chef Sam!