Ivy Recent Grads Happy Hour
Friday, November 12, 2021
What is the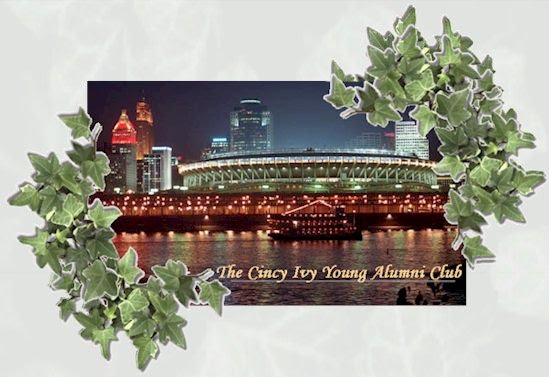 Cincy Ivy Club?
Recent graduates of all Ivy schools are cordially invited to join the Cincy Ivy Club! We bring together recent graduates from a variety of schools, companies, & neighborhoods for a fun and relaxing Happy Hour on the second Friday of each month. These casual meetings are underwritten by the Harvard Club of Cincinnati and other Ivy alumni clubs and are in addition to their programming. There is no cost to subscribe.


Please save the date! The Cincy Ivy Club <http://www.cincyivy.org> is holding its next Ivy Recent Graduates Happy Hour on Friday 12/10/2021, from 5:30 PM to 7:30 PM in Downtown Cincinnati.

There is no admission cost for the happy hour. Hors d'oeuvres are provided and there is a cash bar. This is an excellent way to meet other Ivy recent graduates in Cincinnati from a variety of companies, organizations, neighborhoods, etc.

Subscribe to the distribution list at <http://www.cincyivy.org/join-our-list> in order to receive an Evite with location details and invitations to future events (we cannot manually subscribe you, so you must do so yourself).

If you have any questions, please contact the Cincy Ivy Social Committee at social@cincyivy.org or visit our website at <http://www.cincyivy.org>. We look forward to seeing you on Friday 12/10/2021.

Best regards,
Cincy Ivy Social Committee
Cincy Ivy Club
http://www.cincyivy.org
The Ivy Recent Graduates Happy Hour held on Friday, November 12, 2021 at Blind Pig brought together a wonderful group of regular attendees and new faces for a festive, celebratory and patriotic gathering. Recent graduates of Cornell, Dartmouth, Harvard, Penn and Yale shared an abundance of good stories and laughter on a colorful Downtown patio venue while enjoying sweet gourmet cookies, cheerful beverages and outstanding company.

Harvard and Yale alumni, mark your calendars for "The Game" Watch Party on Saturday, November 20, 2021. No cover.
Harvard Serves in a return to our in-person commitment to the Freestore Foodbank and fighting hunger in our community. Come build some holiday cheer for yourself and others on December 4 from 9 am to 11:30 am.
Harvard Clubs across Ohio will share a speaker from the Harvard faculty on December 7. Elena Savoia of the Chan School of Public Health has a background in emergency public health planning and will talk about "Is Covid-19 Vaccine Hesitancy Really About the Vaccine?" VIRTUAL, All Ivy invited.
Harvard Holiday Party at the University Club returns on December 21. Free to HCC members, Early admits and current students.

Get full event details at www.harvardclubofcincinnati.org
IVY EVENTS -


11/20/21 - Yale/Harvard - "The Game" Watch Party @ Frethouse Brewery, Blue Ash
12/4/21-Harvard- Volunteer at Freestore Foodbank
12/7/21-Harvard, Ivy welcome- Elena Savoia virtual discussion


* 12/10/21 - Ivy - Ivy Happy Hour - SAVE THE DATE *
Harvard Club of Cincinnati and All-Ivy
o o o o o o o o o o o o o
Wanted for Harvard Book Club--new Chair. Formulate the book club you want to see.
Contact Marcy.