"Ten years into the Recovery-What Has America Done Well, What Must We Do Now to Keep Sustainable Long-Term Economic Growth?"
With Dan Cunningham, Fellow '13, KSG '16, CEO Long-Stanton Group, Founder and CEO Cunningham Institute for Growth
Introduction by State Senator Wilson, District 7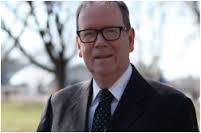 Friday February 14, 2020
11:30 check-in and networking, speaker at noon sharp
Taft Center at Fountain Square, 425 Walnut St., 2nd Floor
Cincinnati Ohio
$12 members, $17 non-members covers lunch from Aynie's.
Choose sandwich/salad when you register.
BYO lunch can attend at no cost.

Click here to buy tickets!!! OR send a check made to Harvard Club of Cincy, c/o Katie Nappi, HCC Treasurer, 644 Watch Point Dr., Cincinnati 45230. Lunch order deadline 2/11.



Daniel B. Cunningham is a successful businessman turned leader-advocate working to bring Americans together to make restoring long-term (10 years) 3% growth for ALL Americans our #1, top national goal. Dan draws on his own considerable work and research (see sidebar) supplemented by the recently published Harvard Business School U.S. Competitiveness Project report (which he participates in) entitled A Recovery Squandered. He considers it the best report out of this group yet, generally non-partisan and focused on the most important solutions.
1. Where has the U.S. economic growth come from the last ten years; what areas are we stronger, what areas are we weaker? How can we identify and include those who are being left out?
2. "Why Competition in the Politics Industry is Failing America" -understanding the "political-industrial complex" and how it is impacting our nation's growth. How can you get involved to be part of the solution?
3. How does the role of business in the politics of today and tomorrow impact growth?
4. The good and what needs improvement in the 2017 Tax Cut and Jobs Acts (TCJA) and how it impacts the nation's growth.
5. How the U.S. is losing out in the global talent market and how to fix it.
6. Income and wealth Inequality: How it impacts America's growth and what solutions are proposed.
7. Q & A
An Ohio native and long-time Warren County resident, he has always sought to give back to the community, making it a better place to live, work and raise a family. He believes that quality education and schools, as well as responsible community planning and creating good-paying jobs, are the tenets to growing a strong living and working environment for all Ohioans.

Before entering the Ohio Senate, he was a Naval Officer and the retired CEO of LCNB Corp. and LCNB National Bank.


133rd General Assembly Committee Assignments:
- Energy and Public Utilities (Chairman)
- Finance Committee
- Higher Education Committee
- Insurance and Financial Institutions
- Local Government, Public Safety and Veterans Affairs
- Ways and Means

Questions? Contact Kate Molinsky.
Menu: Choose from dropdown list after payment screen.

The Aynie's Salad, Fresh mixed greens topped with dried cranberries, toasted almonds, bleu cheese and balsamic vinaigrette.

Black Forest Ham and roast beef topped with swiss cheese and green leaf lettuce on marble rye.

Avocado BLT, Peppercorn bacon served with sliced avocado, tomato and green leaf lettuce on a locally made multigrain roll.

Veggie Wrap, Cucumber, tomato, lettuce, sprouts, banana peppers, green peppers with hummus and cheddar cheese in a wrap.

Roasted chicken breast served on a fresh baked roll with white cheddar cheese.
When:
11:30AM - 1:00PM Fri 14 Feb 2020, Eastern timezone

Where:
Taft Center at Fountain Square
425 Walnut St.
Cincinnati, OH 45202 US
[ Get Directions ]
About Dan...
Since 1998, Dan Cunningham has been CEO of The Long-Stanton Group, a business founded in Cincinnati in 1862. Awards won by Long-Stanton under his tenure include "Family Business of the Decade" and three Manny Awards for the "Hall of Fame Leadership Award," Biggest Breakthrough" and "New Product Development."
In 2013, Dan was tapped as an Advanced Leadership Fellow of Harvard University. With the country in the midst of an anemic recovery, he was fired up about finding ways to overcome the unique challenges to growth in our Midwest region. This led to a return to Cambridge and a master's degree from the Kennedy School of Government. He returned to Cincinnati, determined to put his research to work not just for the region but for the nation. He turned daily management of Long-Stanton over to his son in order to found the Cunningham Institute for Growth. CGI analyzes competing programs for their impact on increasing economic growth, then determines and explains the best possible path forward to create maximum growth.
Dan has become a persuasive public speaker for positive change. To support his work to restore 3% long-term (10 years) U.S. economic growth, he is an avid student of the economics/effectiveness/fairness of global trade, healthcare, financial services, and how market-based electricity is regulated.