Southern Cross, North Star: The Politics of Irreconciliation and Civil War Memory on the American Middle Border
with Dr. Christopher Phillips
Taft Center at Fountain Square
April 16, 2019
11:30-1:30, boxed lunch
$10 members and their guests, $15 non-members
Click here to buy tickets!!!
Deadline 4/14
If you prefer, you can send a check made to Harvard Club of Cincy: Katie Nappi, 644 Watch Point Dr., Cincinnati OH 45230
What was Cincinnati's place in the nation at the time of the Harvard Club's inception in 1869? Christopher Phillips, the John and Dorothy Hermanies Professor of American History and the University Distinguished Professor in the Arts, Humanities, and Social Sciences at the University of Cincinnati, joins us with insights into the post-Civil War era in the city and the entire Middle Border region astride the Ohio Valley, Abraham Lincoln's home region. Phillips explains how, far from being a fixed and static boundary between the North and South, these border states experienced fierce postwar conflicts over political and social loyalties that made the Ohio River into a border by way of distinctive cultural and regional identities among their white and black residents.

Dr. Phillips is the author of seven books focused on slavery and freedom, urban African Americans, emancipation, war, race, politics, and memory during and after the Civil War era, including The Rivers Ran Backward: The Civil War and the Remaking of the American Middle Border (2016), which received Tom Watson Brown Prize from the Society of Civil War Historians and the George and Ann Richards Center for Research on the Civil War Era, as well as the the Society of Military Historians' Distinguished Book Award, the Midwestern History Association's John Gjerde Prize, the State Historical Society of Missouri's Missouri Book Award, and the Ohio Academy of History's Distinguished Book Prize. It was also named a Choice outstanding academic book and a Civil War Monitor best book of the year.
Other books by Dr. Phillips: The Civil War in the Border South (2013); Freedom's Port: The African American Community of Baltimore, 1790-1860 (1997), a cowinner of the Best Book prize from the Maryland Historical Society; Missouri's Confederate: Claiborne Fox Jackson and the Creation of Southern Identity in the Border West (2000); and Damned Yankee: The Life of Nathaniel Lyon (1996), a Choice outstanding academic book. His essays have appeared in such publications as Journal of the Civil War Era, Civil War History, and the New York Times. His work has been supported by the National Endowment for the Humanities, the American Philosophical Society, the Andrew W. Mellon Foundation. From 1999 to 2011, he served as a coeditor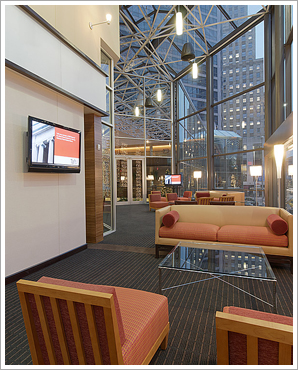 of Ohio Valley History.
CLICK for DIRECTIONS: The Taft Center at Fountain Square is located on the 2nd floor of the U.S. Bank Building on the corner of 5th and Walnut Street across from the Fountain Square parking garage. The garage is open to the public. The link lists other parking options, as well.
Questions? Contact Sean Pollock.
About Taft/, Sponsor of HCC's 150th Anniversary
At Taft Stettinius & Hollister LLP, delivering outstanding legal performance to help clients succeed is what drives and motivates its more than 400 attorneys and legal professionals every day. Taft has offices in Cincinnati, Cleveland, Columbus and Dayton, Ohio; Indianapolis, Indiana; Northern Kentucky; Phoenix, Arizona; and Beijing, China. The firm practices across a wide range of industries, in virtually every area of law, including: Business and Finance, Litigation, Labor and Employment, Intellectual Property, Bankruptcy, Restructuring and Creditors' Rights, Environmental, Health and Life Sciences; Personal Services; Real Estate and Tax law. With a proven track record of experience since 1885, Taft offers breadth and depth of legal expertise coupled with a trusted business perspective, helping its clients, big and small, regionally, nationally and internationally, in reaching their goals.

Taft Center is a state-of-the-art meeting space with a front row seat to one of the most exciting views in the city – Fountain Square. From the square, the city is able to see through the windowed walls of The Taft Center to its illuminated 1,200-square-foot "living room," equipped with wireless network and movable seating. Beyond are private meeting rooms of varying sizes, fitted with high-tech electronics for international conferencing. The largest meeting room can accommodate up to 120 people in theater-style seating and 80 for sit-down dinners. Nearby is a large catering kitchen.
When:
11:30AM - 1:30PM Tue 16 Apr 2019, Eastern timezone

Where:
Taft Center at Fountain Square
425 Walnut St. 2nd Floor, across from Fountain Squ
Cincinnati, OH 45202 US
[ Get Directions ]
Look Who's Coming:
Marcy Taylor
HCC
Daniel Fleming
Lori Nuckolls
Daniel Cunningham
Dr. Marge Cunningham
Xavier University
Marvin Cunningham
The Long-Stanton Group
Gillian Sella
Uri Sella
Couper Gardiner
Kayla Springer
Catherine Burleigh
Anne Burleigh
Mike Carroll Cunningham
Warren County Foundation
Senator Richard Finan
Mayor of Evendale
David Croall
Tom Seddon
Warren County Foundation
Mary Helen Weber
Greg Hartmann
Sean Pollock
Wright State University
Lair Kennedy
Sarah Gideonse
Stephen Strauss
Jeff Berding
Aaron Reid
United Way of Warren County
Matt Stautberg
Macy's, Inc.
Sherry Reid
Countryside YMCA
William Coughlin
Arthur Seyler
AARP
Kathleen MOLINSKY
Tim Reilly
Taft
Cliff Craig
Jeanne Golliher
Cincinnati Development Fund
George Molinsky
John Williams
... a total of 36 guests.
Note: to opt out from this list please sign in, go to My Account and change your preferences under My RSVPs.
Thanks to our 150th Sponsors!
Bradley Cohen,
Blake Nestok,
Robert Sorscher,
Holly Azar,
Dean Blase,
Valerie Bogdan-Powers,
Sam Huttenbauer,
Kate Molinsky,
Kerry Hastings,
Dan Cunningham,
Dorothy Corbett,
Katie Nappi
,
Sarah Raup Johnson,
Joseph Scanio,
Gillian Benet Sella,
Steve Strauss
, Marcy Taylor,
Walter Roschke,
Jay Chatterjee,
Cedric Vogel
, Sean Pollock
,
Frank Welsh
, Shalini Gupta,
Heather Quinley, Couper Gardiner