Fall Luncheon with Christopher Lewis, M.D.
Making a Sustainable Difference in Tanzania through Village Life

Thursday, October 13, 2022
Meet us in the brand-new Digital Futures Building of the University of Cincinnati! Room 660
11:45 am Boxed lunch pick-up
12:00 Welcome by Associate VP Programs and Initiatives Jennifer Krivickas
12:05-1pm Presentation with Q&A
Christopher Lewis, M.D., Harvard College '96, Vice Provost for Academic Programs at University of Cincinnati,
Founder of Village Life Outreach Project
1-1:30 pm Tour of the Digital Futures Building with Associate VP Programs and Initiatives Krivickas
REGISTER HERE
$15 for boxed lunch from Aynies. Order by midnight October 6.
Free if you BYO lunch, but please register.
Virtual viewing available. Register to get the zoom link.
We invite you to join the Harvard Club of Cincinnati for a two-in-one exclusive event pairing of a joyful story of improving lives across the ocean with a visit to the dynamic new building led by the UC Office of Research called Digital Futures. Not tethered to any one college or discipline, Digital Futures is UC's first interdisciplinary research facility where teams of researchers are partnering with industry, government and thought leaders in the community to solve problems that matter.
Dr. Christopher Lewis '96 is a dynamic leader who chooses to make a difference in the lives of people half a world away by marshaling the people and resources around him. Founded more than 10 years ago by Dr. Lewis, Village Life connects those needing a hand-up in 3 villages in Tanzania with those able to share their time and talent such as UC faculty, staff, and students, UC Health providers of clinical care, and passionate leaders from Cincinnati's private sector. Chris Lewis and Village Life are solving problems that matter.
"I wanted to have an impact on the health of hundreds in a part of the world where there is one doctor for every 33,000 people." --Dr. Chris Lewis

After the program, you will be invited to tour the Digital Futures Building with Associate VP Programs and Initiatives Jennifer Krivickas.
We strongly encourage you to come out to meet Chris in person and experience the Digital Futures Building for yourself, however, we are offering a virtual option for those who can't make it.

Designed to foster moonshot thinking and high risk-high reward applied R&D, the Digital Futures program of research is fueled by the imagination and expertise of our community of researchers who are partnering with government, industry, and the community to deliver reliable and lasting solutions to the real problems impacting people's lives.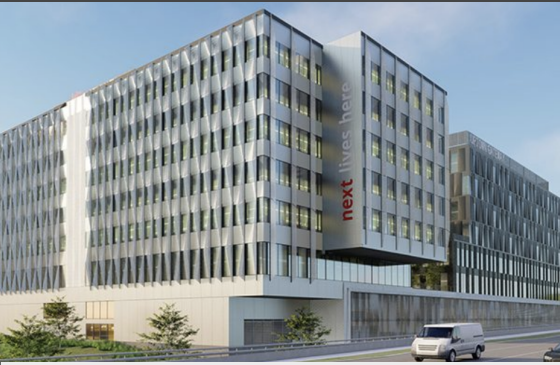 DIRECTIONS
The Digital Futures Building, viewable from MLK Blvd, I-71, Lincoln and Reading Rd.
Enter Exploration Avenue from Lincoln, directly across from the 1819 innovation hub.
Take the elevators from the parking garage to the 6th floor. Room 660 is left of the elevator.





D I G I T A L F U T U R E S
UC is leasing 189,000 square feet of the 369,000
square foot Phase I within the Digital Futures Complex.
Digital Futures will connect UC researchers and
students with industry focused on developing solutions
to problems in the digital world.
The range of solutions will include expertise and
artificial intelligence, big data, drones, intelligence
sensors, and human interaction and interfaces to name
just a few. [Click on DIGITAL FUTURES LINK for more information]
When:
11:45AM - 1:30PM Thu 13 Oct 2022, Eastern timezone

Where:
The Digital Futures Building
3080 Exploration Avenue
Cincinnati, OH 45206
[ Get Directions ]