Ivy Recent Graduates Happy Hour
Ivy Happy Hour Friday, June 14, 2019 Downtown, TBA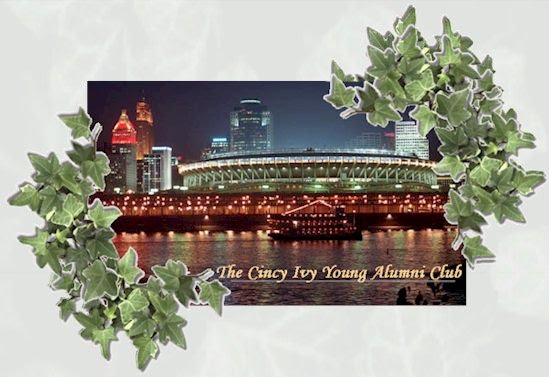 Dear Ivy League Recent Graduates,
RSVP ASAP for the next Ivy Recent Graduates Happy Hour, which will be held on Friday, June 14, 2019 in Downtown Cincinnati (see the Evite that you received for details). The Ivy Recent Graduates Happy Hour is an excellent way to meet other Ivy recent graduates from a variety of schools, companies, neighborhoods, etc. in a fun and relaxing setting. Please contact our Social Committee at <social@cincyivy.org> with questions. Our next gathering promises to be another fantastic event for recent graduates, so we hope to see you there.
All Ivy alumni should note upcoming events and "save the date" notices. Details below.
If you have any Ivy-related events in the area to include on our calendar, please forward a summary in the "Ivy Update format" (like the entries below) to <update@cincyivy.org>. If you have any questions about the Cincy Ivy Club, please contact Sid D'Souza, Club Coordinator at <sid@cincyivy.org>, or visit our website. Remember, if you know new Ivy arrivals to the area, please forward this message and encourage them to join the list by visiting our site <http://www.cincyivy.org>.
Best regards,
Sid D'Souza
Cincy Ivy Club
http://www.cincyivy.org

Best regards,
Sid D'Souza
Cincy Ivy Club
http://www.cincyivy.org
o o o o o o o o o o o o o
IVY EVENTS - DETAILS BELOW
* 7/12/19 - Ivy - Ivy Happy Hour - SAVE THE DATE *
Events
o o o o o o o o o o o o o
o o o o o o o o o o o o o

Thursday, June 27, 2019
Time: 7:30 pm - 9:30 pm
Harvard Club of Cincinnati Book Club
http://harvard.cincyivy.org
Location: Bronte Bistro in Joseph Beth Bookstore (2692 Madison Road 45208)
A Passage to India by EM Forster.
For information about the Book Club, contact Steve Strauss at 513-321-0967 or <sdstrauss@earthlink.net>.

o o o o o o o o o o o o o

Sunday, July 14, 2019
Time:4:00 pm - 6:00 pm
Summertime Stroll over the Bridges of Downtown.
Marcy Taylor and Gary Heaton, '84s, will lead a loop walk from the Covington flood wall murals past the Aquarium, over the Purple People Bridge, across the Serpentine Wall and Smale riverfront park and back over the Roebling Suspension Bridge. The goal is to enjoy the sites and company while getting a little exercise. We can stop in along the way for ice cream or adult beverages.
RSVP to marcytaylor@post.harvard.edu or via the Harvard Club website.
Park "underneath" the Roebling on the Covington side.
Note: I will investigate closer to the date to see if bridge repair will impact our plans.
o o o o o o o o o o o o o
o o o o o o o o o o o o o