The 2018 Harvard-Yale Game: #135
Saturday, November 17 at Rhinegeist Brewery in OTR.
12:00 kickoff
No Cover: Buy-your-own drinks and food.
Harvard-Yale Cookies provided.
Wishbone Trophy awarded to the victor!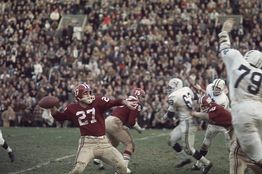 LOCATION:
Rhinegeist Brewery, 1910 Elm Street
Doors open at noon. The broadcast is live from Fenway Park!

"A Clash Upon A Darkling Plain" is how one reviewer described Harvard's ferocious 16-point comeback (start at 2:41) in the waning moments of the game played in Harvard Stadium a half-century ago.
This year holds another historic marker: the 135-year anniversary of The Game will be contested at Fenway Park. This is the first time since 1912 that The Game will be played at a venue other than Harvard Stadium or the Yale Bowl.

It's only fitting the Harvard Club of Cincinnati will be using this year's "no cover" Watch Party to kick off our own 150-year anniversary. To mark the occasion, we're doing "Rhinegeist Redux", returning to the extremely popular site of our 2016 watch party. The Taproom alcove (with 2 TVs private to us) has four 8-foot banquet tables reserved for seating and is adjacent to the concession stand. Burgers, sandwiches, bar snacks, soft drinks and adult beverages will be available for purchase, and Adriatico's pizza and zonis, Eli's BBQ and Gomez Salsa may also be brought in, if you'd like.

Last year's 21-3 loss to the Bulldogs means Harvard buys the special H-Y cookies. In return, however, we'll be looking to get the "Wishbone" traveling trophy back! Toward that end, and to help mark this historic confluence of events—for both The Game and The Club—please mark your calendars and make plans to attend. Doors open at Kick-off (12 noon) and the venue is ours for at least four hours. Children are encouraged to attend, brewery tours will be available throughout the course of the afternoon, and there will be opportunities to take on the Yalies in corn hole and ping pong.

Parking is easy…brewery parking lot across the street from the entrance, on the street or around the corner at Findlay Market. If you'd prefer to take the Streetcar, there is a stop right in front of Rhinegeist. We look forward to seeing you!

Go Crimson!
For questions, contact Nelson, cell: (513) 703-1309