HCC 2016 Opening Reception
Monday, September 19 at the Harriet Beecher Stowe House
The Harvard Club kicks off the 2016-17 program year with a mix of food, drink and history at the Harriet Beecher Stowe House on September 19. In addition to our usual socializing and announcement of the events calendar, the wonderful staff will offer tours of the house. The Stowe Board has been invited, and we are thrilled to welcome a special guest from the Ohio History Connection (formerly the Ohio Historical Society)! George Kane, Director of Historic Sites & Facilities, is excited to be part of the gathering of a Club whose founding members were contemporaries of the Stowe family. Don't miss this opportunity to enjoy the best of the Harvard experience, meeting engaging people in an historic setting with a glass of wine in hand!
The House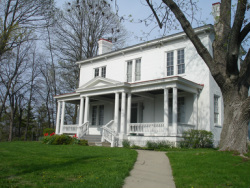 The Harriet Beecher Stowe House is operated as an historical a
nd cultura
l site focusing on Harriet Beecher Stowe, author of Uncle Tom's Cabin. The site also includes a look into the family, friends, and colleagues of the Beecher-Stowe family and the Lane Seminary. The abolitionist, civil and human rights, and Underground Railroad movements in which these historical figures participated in the 1830's to 1860's, as well as African-American history related to these movements, are a special focus of the House.
The Stowe House offers cultural events, programming, and tours. The house and grounds are also available to groups for rental for meetings and special events. The adjoining grounds are maintained by the Cincinnati Park Board. Harriet Beecher Stowe House is an Ohio History Connection site.

Free event! Scroll down for easy RSVP!
[Note: Some reservations were taken as free "tickets". The new quick RSVP is equivalent. The point is to get a count for food and drinks. I am sorry to have caused inconvenience or confusion. I am still figuring out the fine details of the recent software update. --Marcy]

The house is located at the corner of Martin Luther King Drive and Gilbert Avenue (ST RT3 and US RT 22) in the historic Walnut Hills Neighborhood of Cincinnati (Hamilton County, Ohio.) It is accessible from I-71.
There is a parking lot and additional off-street parking across the street at Gilbert & Beecher, at the African-American Chamber of Commerce.
Cincinnati Metro Bus Route 1 stops in front of the House and also stops at the Cincinnati Art Museum, Cincinnati Zoo, and other downtown attractions (Fare is $1.75 for adults).
When:
Monday, 09/19/16 at 5:30pm - 7:30pm | iCal
Where:
Harriet Beecher Stowe House
2950 Gilbert Avenue
Cincinnati, OH 45206
[ Get Directions ]
RSVP Here...
Look Who's Coming:
Marcy Taylor
Heather Quinley
Kayla Springer
Jay Chatterjee
Guest of Jay Chatterjee
Philip Chang
Shriners Hospitals for Children-Boston
Terence Lilly
Edward Goldman
Roanete Naamani
Kevin Leahy
Margaret Swallow
Gary Heaton
p&g
Dave Croall
Porter Wright
Ashley Tongret
Cincinnati Opera
Sarah Johnson
MBA79
Kerry Hastings
Taft Stettinius & Hollister LLP
Daniel Hoffheimer
Taft Stettinius & Hollister LLP
Bert Baker
Kayla J Springer
Paul and Phyllis Tobias
Sean Pollock
Wright State U
Philip Chang
Shriners Hospitals for Children-Cincinnati
Lee Schimberg
Gillian Sella
Uri Sella
HCC spouse
John and Susan Frank
na
Annie Dell'Aria
Lori Nuckolls
Blank Rome LLP
Mary Helen Weber
Couper Gardiner
m.Arch Inc
Christopher Vuturo
P&G
Katie Nappi
P&G
Maria Espinola
University of Cincinnati College of Medicine
William Gordon
Walnut Hills High School
Tom Broge
Mark Fogel
Dayton Development Coalition
Daniel Cunningham
Long-Stanton
Marge (guest of Dan) Cunningham
Xavier University
Daniel Golliher

... a total of 40 guests.
Note: to opt out from this list please sign in, go to My Account and change your preferences under My RSVPs.